After China's cancellation of its "zero covid" policy at the end of 2022 (largely due to protests across the country), there was a reasonable (albeit cautious) expectation of resumption of economic growth at a level of 5%. It seemed that it would come true — the country's GDP rose by 4.5% in the fourth quarter of 2022 (higher than expected in that period), which, in turn, had a positive effect on the economic dynamics of Chinese partners in Asia.
However, the results of the first quarter of 2023 did not confirm optimistic expectations. The post-coronavirus opening of the country gave a positive impetus to some sectors but had little practical impact on the economy as a whole (chart "Indices of activity in Chinese processing industries and the services sector"). Poor industrial dynamics, a noticeable drop in imports, stalled investments in fixed assets testified to the poor effectiveness of the growth components. Only China's service sector recovered significantly after the two-year coronavirus restrictions, but it had only an internal effect and an extremely weak global impact, as tourist visits to the country (which significantly boosted this sector) remained low.
Important factors of China's economic development include commodity imports from Europe. On the one hand, some of the largest volumes of imports come from the EU countries, the import structure is dominated by machines, equipment, telecommunications, pharmaceuticals, which are in high demand, and their dynamics may reflect the aggregate demand of the Chinese economy and serve as an indicator of economic dynamics in general.
On the other hand, economic recovery in China creates an adequate (growing) demand for European goods. Therefore, the current weak dynamics of Chinese imports shows that no recovery of the Chinese economy should be expected in the coming months. And with that — the Chinese economy (due to the growth of demand and feedback) will not be able to be a driver for the European economy, whose industry shows a downward trend (diagram "Indices of activity in processing industries of the Eurozone and China"). The good news in such conditions is that there will be no increase in inflation, which will allow the EU markets to see desired price limits.

Indices of activity in Chinese processing industries and the services sector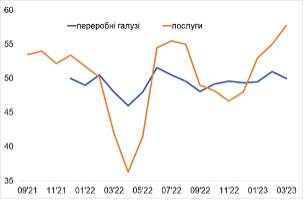 -processing industries -services


Indices of activity in processing industries of the Eurozone and China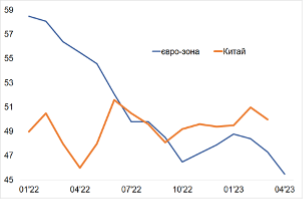 -Eurozone -China

What does this have to do with Ukraine, and why should we care about China's economic recovery?
First of all, any slowdown or even temporary weakening of the economic activity in Europe means a decline of attention to Ukraine. Not only in financial terms (reduction of partner aid), but due to the emergence of political leaders searching for "new" partners, as it was demonstrated recently by the French President's visit to China. New "partnerships" will appear, to some extent, at the expense of Ukraine (in particular, in the form of new "peace plans" beneficial for Russia).
Meanwhile, successful economic recovery in China will give a boost to the European economy, which, in turn, will certainly have a positive impact on the economy of Ukraine. Moreover, for this positive influence to be not only "passive" (receiving financial support from successful European countries), Ukraine should quickly join European production networks. For this purpose, during the implementation of the "Marshall Plan" projects (which, according to our expectations, should start this fall), joint ventures with European partners should be set up (as provided in the Ukraine-EU Association Agreement). Joint ventures will also make the European business ready to "pull up" Ukrainian partners to meet the growing demand in China.

https://razumkov.org.ua/komentari/navishcho-ukraini-zrostannia-ievropeiskogo-importu-dlia-kytaiu