Imposition of sanctions on Russia (to reduce its ability to continue and expand aggression) was an important component of the economic policy of democratic countries. The unprecedented scale of the planned measures indicated that significant complications might arise at the implementation stage. Unfortunately, some fears were justified, if we look at the efficiency of the countries' involvement in the sanctions. 
We see that the sanctions of democratic and developed countries are a sufficiently effective mechanism to influence the countries that violate or do not properly observe human rights, democratic principles and mutual respect between states. However, the efficiency of sanctions strongly depends on the willingness and ability of many countries to comply with them. If a group of countries for one or another reason is loyal to the sanctioned country, the desired result — weakening the economic capacity of such a country — turns out to be much more difficult to achieve. It should be recognized that this is the case with Russia.
In the spring of 2022 (after it became clear that the Russian blitzkrieg had failed) the IMF (World Economic Outlook, April 2022) predicted that as a result of the war, Russia's GDP would collapse by 8.5% in 2022, due to direct losses to the Russian economy from the war and imposition of sanctions on Russian by the leading countries of the world. However, the consequences turned out to be far from expected — its economy shrank by only 2.1%, even less than in the year of coronavirus (table "Rates of economic growth in Russia").

Rates of economic growth in Russia, % compared to the previous year
| | | | | | |
| --- | --- | --- | --- | --- | --- |
| 2017 | 2018 | 2019 | 2020 | 2021 | 2022 |
| 1.8 | 2.8 | 2.2 | -2.7 | 5.6 | -2.1 |
To a large extent, such a moderate fall owes to the fact that the sanctions were not sufficiently efficient. Thus, although the measures disrupted "traditional" trade relations, "substitutes" were found quite quickly, which allowed Russia not only to modify export-import flows but also to significantly improve foreign economic indicators. In particular, the balance of trade in goods in 2022 (+$291 billion) turned out to be much better than in 2020 with its coronavirus (+$94 billion) when global restrictions were in effect, and even better than in "quiet" 2021 (+$190 billion), and the current account balance of operations in 2022 set a record (at least for the last decade) — a surplus of 10.3% of GDP.
Let's pay attention to two factors. The first is that although the leading Russian banks, as indicated, were sanctioned and cut off from the global settlement network (SWIFT), most small and medium-sized banks, as well as branches of large Western banks, were able to continue almost normal activities (including some operations with dollar assets and settlements). That is, although the settlements of Russian companies became more complicated, they turned out to be not critical for business activity.
The second factor is related to the fact that at a time when almost all European companies supported trade bans and restrictions, Asian countries decided to take advantage of the favourable situation in certain markets, primarily, of imported energy resources. Thus, although Russia's exports to the West decreased, export flows to the East began to grow rapidly. In particular, Chinese imports in 2022 increased by more than 40%, although the main product — oil — was significantly cheaper in 2022. For oil, the "redirection" is especially evident: Russian oil exports to Europe decreased significantly, while to Asia, they markedly increased (diagram "Oil Exports to European and Asian Countries").

Russian Oil Exports to European and Asian Countries, million barrels per day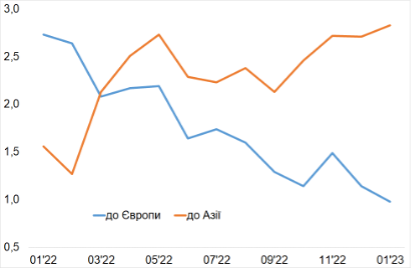 to Europe | to Asia
But the most impressive (and very unpleasant) are the indicators of Russia's trade with emerging partner countries, including the former Soviet republics. The anti-Russian sanctions against the aggressor state, which limited exports, were designed to weaken Russia's economic capabilities, but instead, many countries that declare democratic values and even have approved European rapprochement strategies decided to take advantage of the "circumstances". Say, in the sanctioned year of 2022, exports to Russia from Kazakhstan rose by 47%, from Turkey — by 58%, Armenia — by 325% (!) (table "Exports of some countries to Russia"). And these are the data of official statistics, which do not take into account "grey" exports. What's more, there are reasons to claim that a part of even the official increase in exports is due to re-exports (bypassing trade restrictions).

Exports of some countries to Russia, $ billion
| | | | | | | | |
| --- | --- | --- | --- | --- | --- | --- | --- |
|   | China | Kazakhstan | Turkey | Georgia | Armenia | Latvia | Lithuania |
| 2021 | 67.7 | 6.0 | 5.9 | 0.6 | 0.8 | 1.4 | 4.1 |
| 2022 | 76.1 | 8.8 | 9.3 | 0.7 | 2.6 | 1.3 | 2.9 |
Note that European countries (former Soviet republics) have significantly limited trade with Russia (although Latvia and especially Lithuania are strongly dependent on Russian markets), which is a valid manifestation of their support for Ukraine.
It seems that the practice of "substitution" of trade flows will continue in 2023, especially since the relevant schemes have already been tested (and new ones will be invented and used), providing Russia with resources to continue its aggression against Ukraine. Thus, in 5 months of 2023, bilateral trade between Russia and China reached almost $94 billion, which is even more than in the record year 2022 by 41%, and the annual figure is expected to exceed $200 billion.
To sum up, there are reasons to state that, firstly, while democratic countries do consciously make efforts to help Ukraine (even sacrificing their interests), many emerging countries remains at best indifferent. Which, in fact, shows the real (not claimed) position of these countries regarding Ukraine in its struggle for freedom and independence. As a result of their position, the Russian economy is still quite stable and can finance an aggressive war, condemned by the majority of UN member states (paradoxically, including those who "feed" the Russian economy), to some extent — due to the insufficient efficiency of sanctions (including secondary sanctions against countries that continue to maintain close economic relations with the aggressor).
Secondly, Ukraine, which has embarked on the path of free development in the commonwealth of democratic countries, has already felt their partner support. So, Ukraine can no longer afford "promiscuous" economic relations, and at the same time, it should widen the distance from those countries that, declaring democratic values, in one or another play way up to the Russian aggressor. Of course, this may undermine the country's hopes for soonest recovery, but in the end, it will strengthen the domestic economic potential, facilitating the country's accession to the community of open democracies.

https://razumkov.org.ua/komentari/pro-ekonomichnu-solidarnist-bratnikh-narodiv