The assessment of changes in gas prices by major market segments of Ukrainian gas market over the past year, compared with import prices, showed the approximation of wholesale gas prices in regulated and unregulated market segments, as well as gas supply prices for imports. This not only means that the unification of rules made the Ukrainian market interesting and open for imported gas, but also confirms that the wholesale market, thanks to foreign supplies, has achieved better competition between gas suppliers for industrial consumers.
Therefore, import parity has already become the main driver for setting the market price in all segments, including the regulated market (diagram).

Diagram. Comparision of whalesale gas prices with import parity price on gas market in Ukraine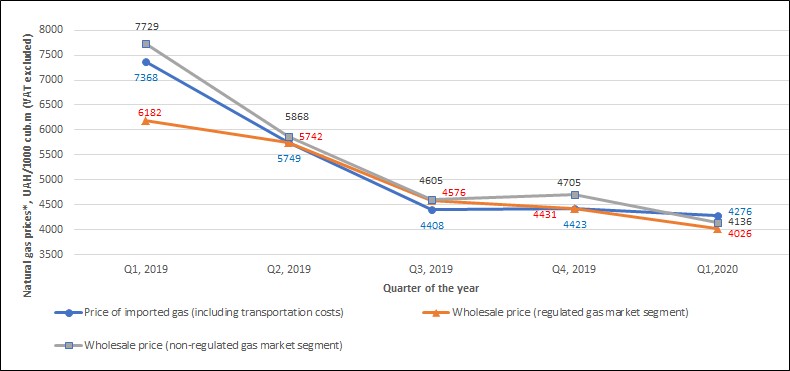 * Source: NEURC data and Razumkov Centre's estimations based on the data of State Statistic Service of Ukraine

Since the beginning of 2020, the wholesale price of natural gas for households, heat energy producers and other protected consumers, to which Naftogaz supplied gas under its special responsibilities (so-called PSO), has decreased on several occasions. Overall, since the beginning of the year, the price under PSO has decreased by 51%, whereas the fall in gas prices compared with the same period last year and total price drop reached 62%.[1] This price situation in the market have led to the government's decision to liberalise the gas market for households during non-heating season of 2020 and contributes to make this for heat energy producers within next 6-12 months.
By consistently implementing the gas market reform, Ukraine now seems to be on the track seeking to improve market mechanisms. The main tasks of this stage of gas market transformation should include the following:
abolition of the PSO mechanism for natural gas supply for heat energy producers;
improvement of targeted subsidy mechanisms for vulnerable consumers;
improvement of price setting for gas distribution services as a way of state regulation of natural monopolies;
improvement of gas supply and distribution services and mechanisms to simplify the procedure of changing a gas supplier;
improvement of gas metering systems and devices, transition to energy metering units.
Most of these tasks can be completed through proper organisational and regulatory measures within one year, given the political will in the Cabinet and with lawmakers' support. In addition, the market-based regulation of tariff policy in the area of gas and heat supply is one of requirements of the Memorandum on the provision of the assistance package to Ukraine by the IMF through Stand-By Arrangements.[2]
The essence of incentive pricing for energy network services is to create a financial and economic tool to encourage the owner to invest in network modernisation. However, when it comes to pricing for gas distribution, the old approach continues to be applied to 44 gas distribution companies, which fails to provide sufficient funds not only for modernising and developing gas networks, but even for maintaining them in proper technical condition. To set tariffs for gas distribution companies, they use the Methodology,[3] according to which tariffs are fixed annually based on the cost principle and approved by the NEURC individually for each gas distribution company for 6 or 12 months. Given that most of the gas networks are state-owned and managed by the Cabinet of Ministers of Ukraine, such NEURC approach to pricing does not help to restore the value of state property, which leads to its physical degradation and depreciation.
Introduction of a competitive mechanism for allowing gas volumes exempt from PSO responsibilities (estimated at about 14–15 bcm per year) to enter the market would be an important step towards market de-monopolisation. Obviously, these volumes should be made available to many natural gas suppliers rather than the Naftogaz group only, and to be sold on the energy exchange by major gas producers on a regular basis and under appropriate rules that provide equal opportunities for all potential buyers — wholesale gas suppliers.

[1] UNIAN information agency, with reference to NJSC Naftogaz of Ukraine, — https://www.unian.ua/economics/energetics/cini-na-gaz-gaz-dlya-naselennya-podeshevshaye-na-21-novini-sogodni-11007986.html
[2] Letter of Intent and Memorandum on Economic and Financial Policy approved by the Board of Governors of the International Monetary Fund on 9 June 2020, — https://www.mof.gov.ua/storage/files/Меморандум%20про%20економічну%20та%20фінансову%20політику%20МВФ%20від%2002_06_2020.pdf
[3] NEURC Resolution No. 236 dated 25 February 2016 "On approving the Methodology for determining and calculating tariffs for natural gas distribution services", — https://zakon.rada.gov.ua/laws/show/z1434-16