We are watching a new record-high amount of emergency assistance for the Ukrainian energy system. On Wednesday, August 23, the total volume of imports from Poland and Romania equalled 1,800 MWh, on Monday — 2,000 MWh and on Tuesday — an epic record of 3,900 MWh.
According to approximate estimates, the average price cap in Ukraine is 20% lower than the average price in Slovakia. And on August 23, the average price on the Ukrainian market was 36% lower than the average in Slovakia (The cost of the base load of electricity on the day-ahead market in Ukraine and neighbouring EU countries, Chart 1). The emergency assistance 30% to 2 times more expensive. This means that the level of price caps is currently insufficient to cover the demand.
Without resolving this issue, Ukraine, unfortunately, will face an extremely unpleasant choice — to switch to regular scheduled blackouts throughout the country, or to import electricity at the highest possible price of emergency assistance (not sure that even this option will be available all the time).
Personally, I am against raising prices, as it will further affect the competitiveness of our business. However, it is better to tell the truth as it is than to bury your head in the sand like an ostrich. Perhaps it is necessary to look for the potential, how not to do this in the first place through the analysis of the costs of NAEC "Energoatom" and to investigate possible abuses on the market, but without changing the price caps, I still do not understand how this situation can be resolved. If someone knows, then don't be silent — make suggestions, but reasoned ones.
As we can see, the shortage of capacities becomes the main driver of the increase in the price of electricity in wartime. Although the Russists could not, no matter how hard they tried, destroy our power system, they destroyed or seriously damaged a lot of infrastructure facilities of high-voltage transmission and generation lines. This, in turn, leads to a shortage of electricity on the market, and therefore to an increase in prices. This problem especially aggravated during the peak period of the repair company's preparation for the OZP, which coincided with a long period of maintaining high air temperatures.
It is also necessary to understand that the price of electricity in neighboring countries is not the final import price for us, because there is also an import duty and an excise tax. Well, for traders there is also the redemption of the crossing and other payments in European countries

Chart 1
The cost of the base load of electricity on the day-ahead market in Ukraine and neighbouring EU countries
Electricity market operator data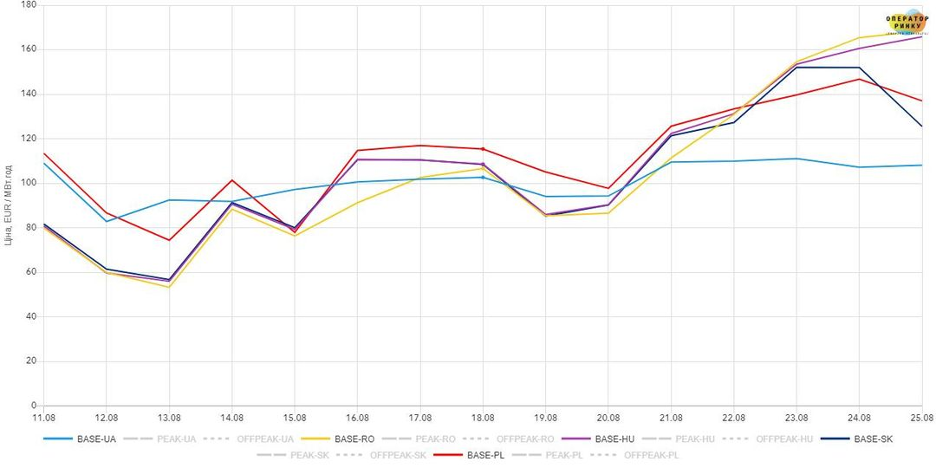 https://razumkov.org.ua/statti/novyi-skladnyi-vyklyk-na-rynku-elektroenergii-ukrainy